What's In the Box???
· click here to buy · pincha aqui para comprar ·
Today, when I got home from work I found a box outside my door! I got so excited, do you ever get excited when you find a package awaiting for you outside your door? I do! It was my Today Is Super Journal from Modcloth! (seen here) It is so adorable, I think that this time I will actually keep a journal.
Hoy en día, cuando llegué a casa del trabajo me encontré con un caja afuera de mi puerta! Me emocioné tanto, ¿alguna vez se emociona cuando se encuentra un paquete a la espera de usted fuera de su puerta? Yo si! Era mi Today Is Super Journal de Modcloth! (visto aqui) Es tan adorable, creo que esta vez realmente mantendre un diario.
From an ownership page that reads "From the brilliant brain of" with cartoon drawings to the sides and with the rest of the page blank giving you the chance to maybe draw your own cartoons, this journal is made to be made unique by you.
De una página de propiedad que dice: "Desde el cerebro brillante de", con dibujos animados a los lados y con el resto de la página en blanco dándote la oportunidad de dibujar tal vez tus propios dibujos animados, este diario está hecha para ser único por ti.
With this sticker page included, full of mood faces and mood words that will surely brighten your pages!
Con esta página de calcomanías incluida, llena de caras del estado de ánimo y palabras de estado de ánimo que sin duda iluminaran tus páginas!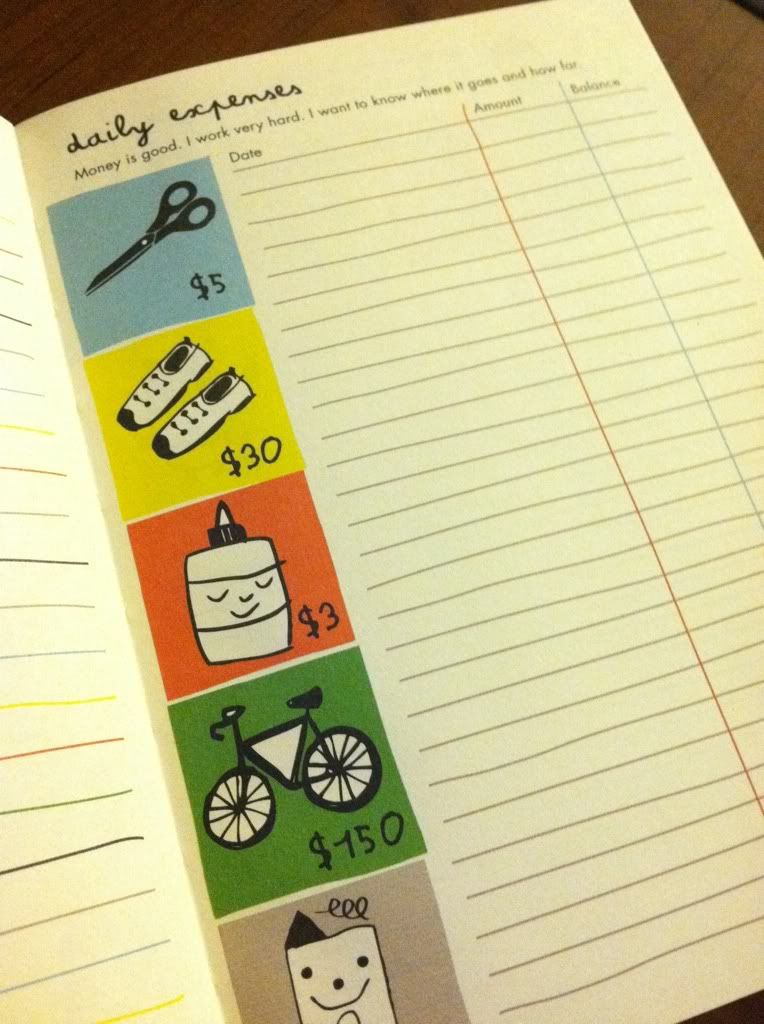 Keep up with your expenses on this cute layout sheet that helps you keep track on what you spend. (one more reason to spend just so I can write it down on my Journal!)
Mantente al día con tus gastos en esta hoja de diseño lindo que te ayuda a mantener un registro de lo que gastas. (una razón más para gastar simplemente para que pueda escribir en mi diario!)